All-Stainless BPHE製品: 発電向けにバイオガスを燃料として使用するロバストなソリューション
Luming Inteligência Energética社が、バイオガスに含まれるエネルギーを発電目的に再利用。同社が必要としたのは、コンパクトな非腐食性製品で、SWEP BPHEが適していました。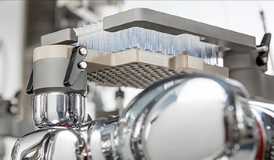 Optimizing freeze drying solutions for the Pharma Industry
For more than half a century, IMA Life Freeze Drying Solutions has been the gold standard when it comes to providing the benchmark for freeze drying solutions to the pharmaceutical and biotech industries.
SWEP's largest BPHE range provides efficient, compact oil cooling solution
One of SWEP's largest BPHEs provided a compact, effective solution that helped Woerner create the ideal oil cooling solution needed for their skid system. Even though our XL range is some of the largest BPHEs we produce, we were still able to provide a much more efficient solution in a smaller package compared to the competing, older technologies like Shell & Tube.
At the forefront of innovative solutions
A major provider of thermoplastic, thermosetting and elastomer injection molding machines, Negri Bossi India Pvt Ltd knows what is important: reliable performance and efficient use of energy. Ensuring that customers enjoy a major competitive advantage while remaining environment-friendly, their machines represent the industry benchmark for low energy consumption.
Aircel air dryers show their full potential with ADWIS
With 100,000 units sold at the beginning of 2015, SWEP's range ADWIS (Air Dryer With Integrated Separator) is now quickly becoming the market standard within several industrial applications. A successful combination of research and thorough knowledge of market demands, this solution solves a common problem without compromising compactness or efficiency.
Outokumpu(オウトクンプ)は自然の要素を使って機械工場を冷やしています
オウトクンプ社は、粗特殊ステンレス鋼(クアルト)のカスタムメイド製品で世界をリードする企業であり、スウェーデンのデーゲルフォルシュにある圧延機に多額の投資を行っています。圧延機に最高の保守サービスを提供できるように機械工場を冷却することは非常に重要です。
BPHEはペットボトルを製造
清涼飲料業界はポリエチレンテレフタレート(PET)ボトル開発の裏舞台における主な推進力でした。
BPHEs making chocolate
Throughout the world, much attention has been paid to pneumatic transport with its many possibilities and advantages.
BAOSI & SWEP: Working together to support the fight against COVID-19
The COVID-19 pandemic in 2020 took the entire world by surprise. The devastating effects were felt in every major city and it turned the healthcare industry on its head. One of the most needed items in hospitals on the frontlines was personal protective equipment (PPE), including surgical masks. The melt-blown fabric used for medical surgical masks is created by blowing hot compressed purified air which is heated using BPHEs.
より高い生産量と冷却能力をもたらす排熱回収
Calefa Oy(カレファ オーユー)は、フィンランドを拠点とする産業廃熱回収ソリューションプロバイダーであり、廃熱を利用して産業プロセスを改善することを使命としています。たとえば、産業用ヒートポンプによる熱回収を通じて、エネルギーとコスト削減のソリューションを顧客に提供しています。
Creating a multi-functional, process cooling system
Green Resource Engineering (GRE) wanted to create two new process cooling systems that can operate at higher temperatures and a smaller version that could also operate in reverse as a heat pump.
REFRISAT and SWEP: Improving efficiency in aeronautical machining
SWEP BPHEs (Brazed plate heat exchangers) have helped to enhance efficiency to REFRISAT chillers in several applications, including machines in the hospital, metal-mechanical, injection, extrusion, blowing industries, and now, the airplane manufacturing market.