Bringing hospital cooling into the future with BPHE upgrade
Every technology is designed for a wide range of applications and has its own pros and cons, but sometimes there are many advantages to choosing one technology over another. Heat exchangers have different technologies and can be used in many application processes. However, with the correct technology, it is possible to optimize and increase the efficiency of the application.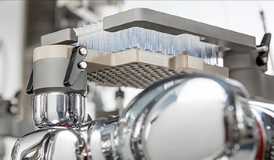 Optimizing freeze drying solutions for the Pharma Industry
For more than half a century, IMA Life Freeze Drying Solutions has been the gold standard when it comes to providing the benchmark for freeze drying solutions to the pharmaceutical and biotech industries.
英国のスーパーマーケットが革新的技術によりカーボンフットプリントを削減
スーパーマーケットチェーンの Sainsbury は、米国ケント州、クレイフォードの9,300平方メートルのスーパーマーケットで煖房・冷房設置によるカーボンフットプリントの大幅削減を成し遂げました。これはインテリジェントエネルギー管理システムとの併用で革新的技術を使用することで達成されました。
Environmentally friendly supermarket
Keeping food fresh with CO2 and brine. Supermarket refrigeration systems commonly use synthetic refrigerants such as R404A and R22.
遷移臨界域CO₂で食品冷却
世界の気候が変動していること、また人類の活動がその原因となっていることにほとんどの科学者は同意しています。
Breaking new ground for transcritical CO2 systems
BITZER Australia approached SWEP to create a new transcritical CO2 system for a Woolworths grocery store in Sydney, Australia. SWEP has led the global development of ultrapressure BPHEs for transcritical supermarket refrigeration for the last decade and was prepared to solve the challenges that the hot Australian climate poses for transcritical systems.
スウェップ BPHE は最高のゴルフコースでプレーコンディションを維持するのに役立っています
オクラホマ州タルサのサザンヒルズ・カントリークラブは、新しいクールシーズンバンクの土壌温度を年間を通じて 65 ~ 80 °F(16~27 ℃)の範囲に維持するという課題に直面していました。 RAE Corporation と Technical Systems チームは、スウェップ BPHE の協力により、クラブの18グリーンが過酷な温度で死んでしまうのを防ぐシステムを設計しました。
Mayekawa's Propane Chiller paired with SWEP evaporators deliver sustainable solutions for AC applications
SWEP's range of BPHEs (Brazed Plate Heat Exchangers) provide the perfect evaporator solution for Mayekawa's Propane Chiller, creating a high level of efficiency in Air Conditioning applications and utilizing natural refrigerants in the process.
Refriac chillers equipped with SWEP evaporators provide ice skating fun year-round in Brazil!
SWEP's range of high-performance evaporators provides a strong heat transfer solution for Refriac chillers to help maintain the perfect ice rink conditions all year.